It is official - breast screening rates amongst Indian and Sri Lanka women is up by 8%.
Chief Cancer Officer and CEO of the Cancer Institute NSW, Professor David Currow has officially announced that their research showed that by June 2015, the number of breast screens for women from Indian and Sri Lankan backgrounds had increased by 8% on the previous year, with numbers continuing to rise. 
"This shift in behaviour amongst the Indian and Sri Lankan communities is due largely to the incredible work of the Pink Sari Project, a community initiative launched in 2014 by the NSW Multicultural Health Communication Service in partnership with the NSW Refugee Health Service, University of Technology Sydney (UTS) and BreastScreen NSW with funding from the Cancer Institute NSW".
In the past, research had shown women from Culturally and Linguistically diverse backgrounds (aged 50-74) had low rates of participation in the BreastScreen NSW program. The Pink Sari Project's aim was to increase mammograms in women aged 50-74 from Indian and Sri Lankan backgrounds by at least 5% through the Cancer Institute NSW's Evidence to Practice Grant.
The success of the Pink Sari Project has been due to the collective effort of individuals and communities from all sectors coming together with a common vision, to raise awareness about how breast screening can save lives.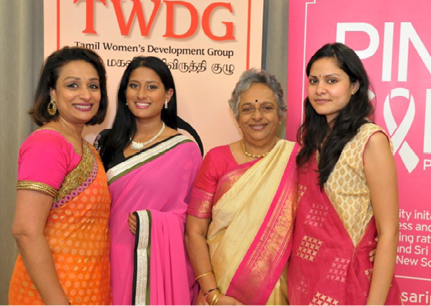 The project has been in full swing in 2016 so far with a range of events having already taken place.
The activities included the extremely successful 'Lunch in Pink Sari' event held in Hurstville on 19 May 2016. The luncheon was organised by the Resourceful Australian Indian Network (RAIN) in collaboration with the Multicultural Health Service South East Local Health District. Over 90 people were present to hear moving survivor stories, information from Breast Screen staff and they were also entertained by some outstanding Bollywood dancing.
The Portraits in Pink exhibition has been on the road again. This time, the beautiful photos of the breast cancer survivors were displayed at Sutherland library.  Watch for the exhibition at a nearby council near you as we've planned for the portraits to tour around Sydney.
The Pink Sari Project has more events coming up in Sydney as well as in regional NSW including Newcastle, Woolgoolga and Griffith.
On Saturday 18th June 2016, we are holding the 'Clinical Update: Cancer Screening & Management Educational Forum' for Sri Lankan Tamil GPs and Health professionals. This event is being spearheaded by the Australian Medical Aid Fund (AMAF).
The Indian community in Hunter New England is in for a treat as we are holding a Pink Sari Project Afternoon Tea at the Hunter Women's Centre in Mayfield on Saturday 25th June 2016.
On Sunday, 10th July 2016, together with the Anjoli Tamil Society, we are holding a high tea at the Parramatta Town Hall for young people from Indian and Sri Lankan backgrounds. They are encouraged to bring their mothers and grandmothers to learn about the importance of breast screening. 
For more details check the Pink Sari Facebook page:  https://www.facebook.com/thepinksariproject/
Please 'Like' & share!
Pink Sari Project website: http://pinksariproject.org/