Project Name
Shisha No Thanks: raising awareness of the harms of water-pipe smoking
We are thrilled that the Shisha NO Thanks project is the winner of the 2020 Premier's Multicultural Communications Awards - CommBank Business Campaign of the Year
Background
Research indicates an increasing trend in water-pipe smoking internationally; it is particularly high among school and university students in Middle Eastern countries as well as people of Middle Eastern descent in Western countries (Akl 2011). The has been little research into the effectiveness of health promotion interventions targeting water-pipe smoking either internationally or in Australia (Gardner et al, 2018) and the harms of waterpipe smoking are not well understood within the Arabic speaking community (Kearns et al, 2018).
Project aims
Shisha No Thanks is a research translation project that aims to raise awareness of the harms of waterpipe smoking in young people from Arabic speaking backgrounds, their family, friends and social networks across metropolitan Sydney.
Partners and funding
The Shisha No Thanks project is a partnership project ed by South Eastern Sydney Local Health District in partnership with the Lebanese Muslim Association (LMA), NSW Multicultural Health Communication Service, Sydney Local Health District, South Western Sydney Local Health District and the South Eastern Sydney Research Collaboration Hub (SEaRCH), University of NSW
The project is funded by the Cancer Institute NSW.
Evaluation of the project is led by SEaRCH and an evaluation reference group including representatives from SESLHD, University of Sydney and Macquarie University.
Reports
Links to resources
Website: http://shishanothanks.org.au/
@ShishaNoThanks
#ShishaNoThanks
 Factsheets in English
Factsheets in Arabic
Factsheets about Shisha and COVID-19
Social Media
 Shisha No Thanks Online Forum – International perspectives on addressing the harms of waterpipe smoking
#WorldNoTobaccoDay - Remember #ShishaNoThanks

SHISHA & COVID 19 - Animation Video (ENGLISH) 
SHISHA & COVID 19 - Animation Video (ARABIC) 
 "Shisha No Thanks" Online Training Module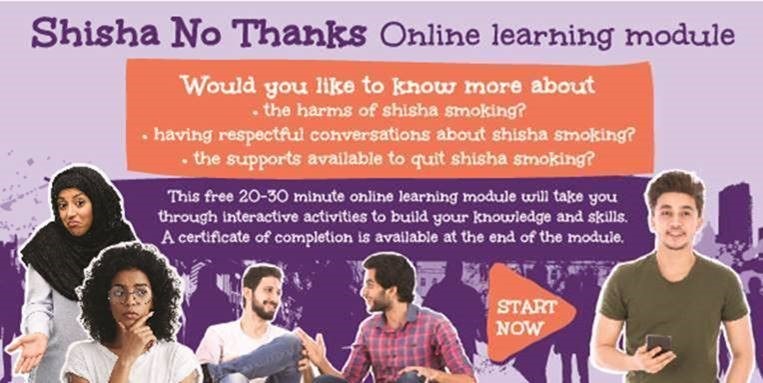 The module covers three key areas:
harms of shisha (waterpipe) smoking
respectful conversations about the negative health impacts of waterpipe smoking
referral options for clients and community members 
We hope you enjoy our new online training module. Please feel free to share this email with any of your colleagues or wider networks as appropriate. 
If you have any questions regarding this online module, please contact Lisa Woodland at Lisa.Woodland@health.nsw.gov.au 
Key contacts
For more information, contact Lisa Woodland at lisa.woodland@health.nsw.gov.au